We know that some time you fall in trouble that what to wear to a classical concert? Actually, guys, attending a classical concert is an exhilarating experience that promises a night of refined music and cultural enrichment.
While the focus is on mesmerizing melodies and orchestral brilliance, it's also important to consider your attire for the event. Dressing appropriately not only shows respect for the occasion but also enhances the overall ambiance. So, if you find yourself wondering what to wear to a classical concert, we've got you covered with some timeless guidelines.
Formal Attire
Classical concerts generally call for a formal dress code. Think of it as an opportunity to dress up and embrace elegance.
Men can opt for a dark suit or a tuxedo, paired with a crisp, collared shirt and a tie. A well-polished pair of dress shoes will complete the ensemble.For women, a floor-length gown, a sophisticated cocktail dress, or a tailored pantsuit would be suitable choices.
Accessorize with tasteful jewelry and pair your outfit with comfortable yet stylish heels. So here you might be cleared about what to wear to a classical concert for both men and women.
Semi-Formal Options
If the concert is advertised as a semi-formal event, there is a little more room for flexibility in your attire. Men can choose between a tailored blazer, dress pants, a button-down shirt, and polished dress shoes. A tie is optional but can add a touch of sophistication.
Women can consider wearing a knee-length dress or a skirt with an elegant blouse. You can also pair a dressy blouse with tailored pants or a skirt. Opt for closed-toe shoes or dressy flats for comfort.
What do you wear to a casual classical concert?
It is often common discussion in what to wear to a classical concert in casual dress. Classical concerts are occasions where casual wear or overly casual outfits should be avoided. T-shirts, jeans, sneakers, or flip-flops are generally not appropriate for such events. Remember, part of the concert experience is immersing yourself in an atmosphere that exudes grace and reverence for the music being performed.
Attention to Detail
Apart from the main attire, paying attention to small details can elevate your overall look. Ensure that your clothing is clean, well-pressed, and in good condition.Opt for colors that are more understated and avoid flashy or attention-grabbing outfits.
Consider the season and venue when selecting your attire. A light wrap or jacket may be necessary if the concert hall tends to be chilly.Attending or analyzing about what to wear to the classical concert is an opportunity to embrace refinement, elegance, and the beauty of the music.
Dressing appropriately for such an occasion adds to the overall experience and shows respect for the performers and fellow attendees.
By adhering to a formal or semi-formal dress code, you can enjoy the concert while feeling confident and stylish. Remember, it's not just about what you wear, but the attitude and appreciation you bring to the concert hall.
What to wear to a piano concert as a guest?
Attending a piano concert is a wonderful experience, and it's important to dress appropriately for the occasion. While the specific dress code may vary depending on the venue, the time of day, and the nature of the concert, here are some general guidelines to help you decide what to wear to a classical concert.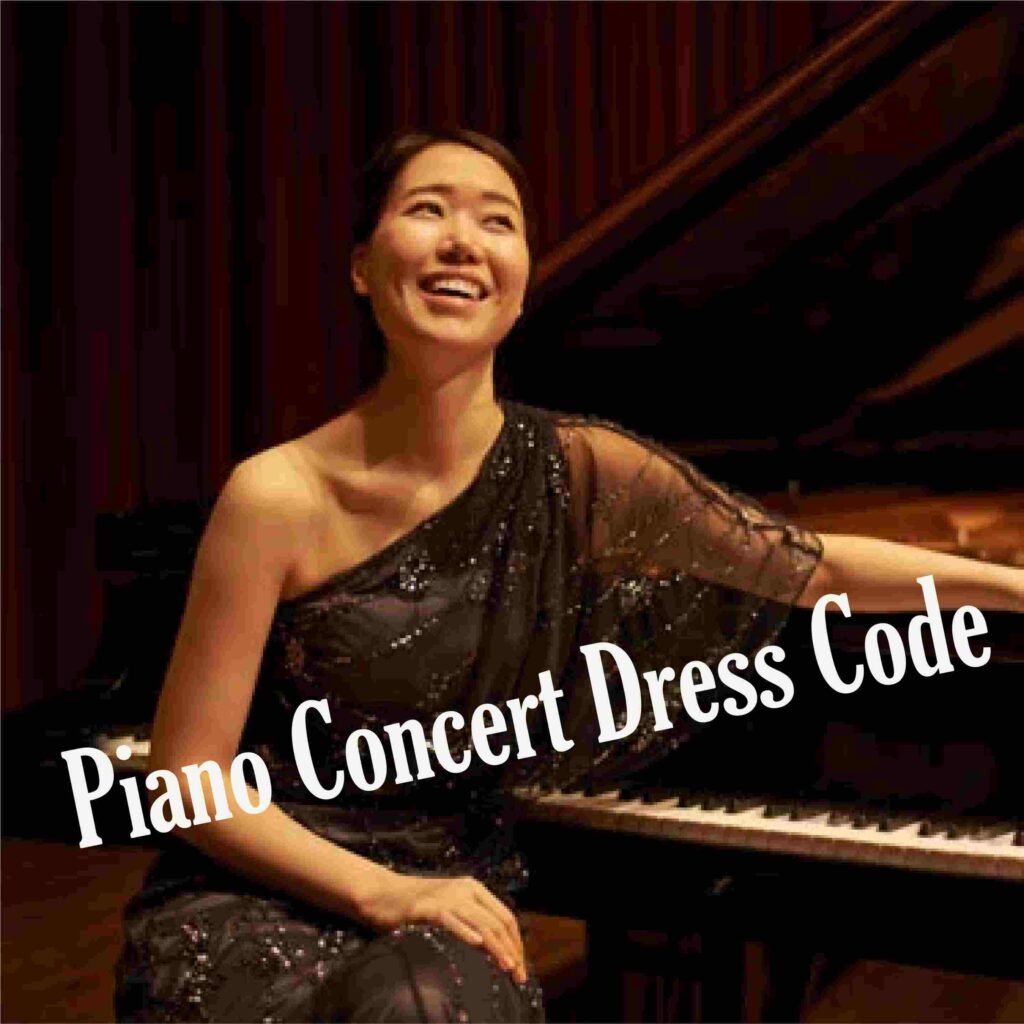 Can I wear jeans to a classical concert?
While jeans may be acceptable for some casual events, wearing jeans to a classical concert is generally not recommended. However, there are exceptions to this rule that What to Wear to a Classical Concert – Some contemporary or casual classical concerts, especially those held in less traditional venues or featuring a more relaxed repertoire, may allow for a more casual dress code.
In such cases, you can consider wearing dark-colored, well-fitted jeans paired with a stylish top and dressy shoe. It's important to research and understand the specific concert's ambiance and guidelines to determine if jeans would be appropriate.
What is the dress code for classical performers?
The dress code for classical performers can vary depending on the specific concert, the type of ensemble or orchestra, and the preferences of the conductor or organization.After the option of formal attire second option is all-black attire which is most common dress code for classical performers is an all-black ensemble.
This can include black pants or a skirt, a black blouse or shirt, and black shoes. The purpose of the all-black attire is to create a uniform appearance among the performers, allowing the focus to be on the music rather than individual outfits.
Dress code variations is another option depending on the nature of the performance or the ensemble, there may be variations in the dress code.
For example, some orchestras or conductors may request specific attire, such as white tie and tails for formal occasions. Chamber music ensembles or smaller groups may have more flexibility in their dress code, allowing for semi-formal or even casual attire.
t's worth noting that the dress code for performers can evolve and adapt over time, and there may be some degree of variation between different orchestras, ensembles, or conductors. Ultimately, the purpose of the dress code is to present a professional and unified image on stage, while allowing the focus to be on the music and the performance.
What to wear to a classical concert in summer?
When attending a classical concert in the summer, you can adapt your attire to the warmer weather while still maintaining an appropriate and respectful appearance. Here are some suggestions for what to wear:
Lightweight fabrics: Opt for breathable and lightweight fabrics such as cotton, linen, or chiffon. These materials will help you stay cool and comfortable throughout the concert.
Dresses or skirts: Consider wearing a summer dress or a skirt paired with a blouse. Choose modest lengths that fall at or below the knee, keeping in mind the formality of the occasion. Flowy or A-line silhouettes can be both stylish and comfortable.
Light-colored clothing: Lighter colors tend to reflect sunlight and heat, so you may prefer pastel shades or neutrals like ivory, beige, or light gray. Lighter colors can also create a fresh and summery look.
Dressy pants or culottes: If you prefer pants, opt for dressy options like lightweight trousers or culottes. Pair them with a blouse or a dressy top for an elegant and comfortable ensemble.
Footwear: Choose comfortable yet stylish shoes suitable for the occasion. Open-toe sandals, flats, or low-heeled shoes are good choices for a summer concert. Avoid flip-flops or overly casual footwear.
Accessories: Enhance your outfit with tasteful accessories. A lightweight scarf, a statement necklace, or a stylish hat can add a touch of elegance to your look.
What to wear to a classical concert in Winter?
When attending a classical concert in winter, it's essential to dress appropriately for the colder weather while still maintaining a stylish and sophisticated look. Here are some suggestions for what to wear:
Formal outerwear: Start with a warm and elegant coat or jacket that complements your outfit. Consider a tailored wool coat, a trench coat, or a dressy long jacket. Opt for neutral or dark colors that can easily coordinate with your ensemble.
Layering: Layering is key for staying warm and comfortable during the concert. Wear a stylish sweater or cardigan over a blouse or dress shirt. You can also add a lightweight scarf for extra warmth and a fashionable touch.
Dressy pants or skirts: Choose dressy pants or a skirt as your bottom piece. Wool or tweed trousers are a great option, and you can pair them with a blouse or a sweater. If you prefer a skirt, consider a knee-length or midi-length wool or velvet skirt paired with tights.
Warm footwear: Opt for stylish boots or closed-toe shoes that provide both comfort and warmth. Knee-high boots, ankle boots, or dressy flats are all suitable choices. Make sure your footwear is appropriate for the occasion and complements your overall outfit.
Tights or stockings: Wear opaque tights or stockings to keep your legs warm while adding an extra layer of elegance to your look. Choose colors that coordinate well with your outfit, such as black or a subtle neutral shade.
Accessories: Enhance your winter outfit with tasteful accessories. Consider wearing gloves, a stylish hat, or a beret to keep your head warm and complete your look. Don't forget to bring a small clutch or handbag that complements your ensemble.
For more information visit Lifestylesup.com