Epcot or Animal Kingdom for 5 year old Children Near Me
If you are in hesitation about what should prefer Epcot or Animal Kingdom for 5-year-old. It is so surprised for kids that Walt Disney World Resort offer unique experiences for children, including 5-year-olds.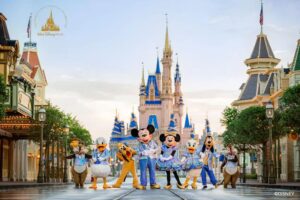 Which one is better EPCOT or Animal Kingdom?
When you ask me personally that what you should select Epcot or Animal Kingdom for 5 year old. However, considering the age of your child, I would recommend Animal Kingdom as the better choice. Animal Kingdom is a theme park dedicated to the natural world and animal conservation.
It offers a variety of attractions and shows that are designed to entertain and educate visitors of all ages. Here are a few reasons why Animal Kingdom might be a great choice for your 5-year-old:
Animals: Animal Kingdom is home to a wide range of animal exhibits and encounters. Your child will have the opportunity to see animals like elephants, lions, giraffes, and many more up close.
There are also special experiences like the Kilimanjaro Safaris, where you can take a guided tour through an African savannah and observe animals in a natural habitat.

Shows and Performances: Animal Kingdom offers several live shows and performances that are suitable for young children.
The Festival of the Lion King is a must-see Broadway-style show featuring music, acrobatics, and characters from the popular movie.
The Finding Nemo – The Musical is another fantastic show that brings the beloved characters from the movie to life on stage.
Exploration and Adventure: Animal Kingdom provides opportunities for exploration and adventure that can be exciting for kids.
The park has themed areas like DinoLand U.S.A., where children can dig for fossils and ride attractions like the TriceraTop Spin.
The Maharajah Jungle Trek and the Pangani Forest Exploration Trail allow visitors to walk through lush environments and discover various animal species.
Epcot Platform
While Epcot offers its own unique attractions and experiences, it may be more appealing to slightly older children due to its focus on technology, culture, and world showcase.
Epcot can be enjoyed by children as young as toddlers, parents should be aware that some attractions may have height restrictions, and the park's emphasis on education, innovation, and cultural exploration may be more appreciated by older children who can grasp the concepts being presented.
Animal Kingdom, on the other hand, provides a more immersive and animal-centric experience that can captivate the curiosity and imagination of a 5-year-old.
Note: You can also check the official Walt Disney World website or app for up-to-date information on attractions, shows, and height requirements to plan your visit accordingly.
Can you do EPCOT and Animal Kingdom in one day?
If you want to shortcut and going to travel Epcot or Animal Kingdom for 5 year old or other option so this paragraph often might be helpful.
While it is possible to visit both Epcot and Animal Kingdom in one day, it can be challenging to fully experience everything each park has to offer in a limited amount of time.
Both parks are quite large and feature numerous attractions, shows, and dining options that can easily fill up an entire day on their own.
To make the most of your visit, consider the following tips:
Plan your day: Study the park maps, attraction schedules, and show times in advance. Identify the must-see attractions and prioritize them to ensure you don't miss out on your top choices.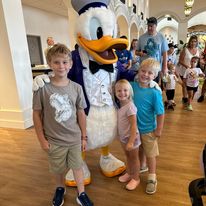 Arrive early: Aim to arrive at the parks before they open to take advantage of shorter lines and fewer crowds. This will give you a head start on experiencing popular attractions.
Utilize FastPass+ or Disney Genie+: Take advantage of Disney's FastPass+ system (if available) or the Disney Genie+ service to minimize wait times for select attractions. This will help you maximize your time and experience more rides and shows.
Be strategic with park hopping: If you have the Park Hopper ticket option, you can visit multiple parks in one day. Start your day in one park and spend the majority of your time there, then hop to the second park later in the day to enjoy a few select attractions or shows.
Optimize your dining choices: Consider quick-service dining options or grab-and-go meals to save time on sit-down dining experiences. Alternatively, plan for a quick meal at one park and a snack at the other.
Be flexible: Understand that you may not be able to experience every attraction or show in depth due to time constraints. Be flexible and open to adjusting your plans as you go.
While visiting both parks in one day may be a bit rushed, it can still be a fun and fulfilling experience if you plan strategically and prioritize your must-see attractions. So we hope you cleared here now about Epcot or Animal Kingdom for 5 year old or more thanetc.
However, if you have the flexibility, dedicating a full day to each park will allow you to fully immerse yourself in the unique experiences they offer.